Rug Size Guide: Things to Know Before Purchasing
Rugs are the ultimate artisanal product that serves interior designing to create a welcoming space in multiple ways. They are often chosen as flooring products for their utility in keeping the house clean and warm rather than just decoration items. A good quality rug helps regulate the temperature of the entire space and saves anyone from slippery floors. Any bare room can be converted into an attractive space by implementing different flooring options by bringing rugs of different colors, tufts of yarn,  beautiful designs, and even synthetic materials and natural fiber for weaving looms. Match your rug with every piece of furniture for your ideal choice of home decor.
With different types of rugs woven with different raw materials like natural fiber, coarse fibers and synthetic fibers, people have a wide variety of rugs with colorful options and shipping methods just like everyday products to choose from. While the textural quality, natural fiber and affordable option may be the first things anyone notices when they first see a rug, the way they are incorporated into a room will impact the observer. How perfectly it fits the area of the room, where they are placed, and how oriented they are with the furniture matters a lot when it comes to utilizing the rug to create a welcoming space.
Different rooms need custom-made rugs and product specifications to make each room in your house, including the living room, bedroom, dining room, kitchen, and outdoor space, an accommodating space. Rugs with beautiful designs, natural fibers and textural quality are accent pieces that determine the face and visual look of each room , and there's no way you can go wrong in choosing the right one if you are prepared well enough to select products of your preference and measurement. Save yourself from all the hassle by learning from this article about which rug size suits the best for each room and the technical and practical factors that go with these accent pieces.
Important Criteria That Decide The Right size Rug
Area rugs can be layered over tiles, wooden floors, tiles, marbles, and any slippery flat surface for a built-in no-slip bottom. Two things that can significantly impact the selection of these accent pieces are:
How you choose the correct size area rug- An area rug with the wrong size can spoil your entire room decor and be demeaning. 
Where you place the area rug matters. It doesn't look good to place a runner rug in an odd place in the living room or dining room. Also, an area rug cannot be placed in narrow spaces and entryways. Every rug has a purpose, the layout of which significantly impacts the entire visual orientation of a room.
Making the smart choice for the perfect area rug size is not a big problem if you follow the proper guidance and expertise of a design consultant or a team of design specialists if you are searching for the right size area rug for your room or commercial space! Often, a slight miscalculation or settling for an inexpensive rug can cost people more money and space than they imagine. Investing in the wrong rug and regretting it later would be the last thing you want to go through.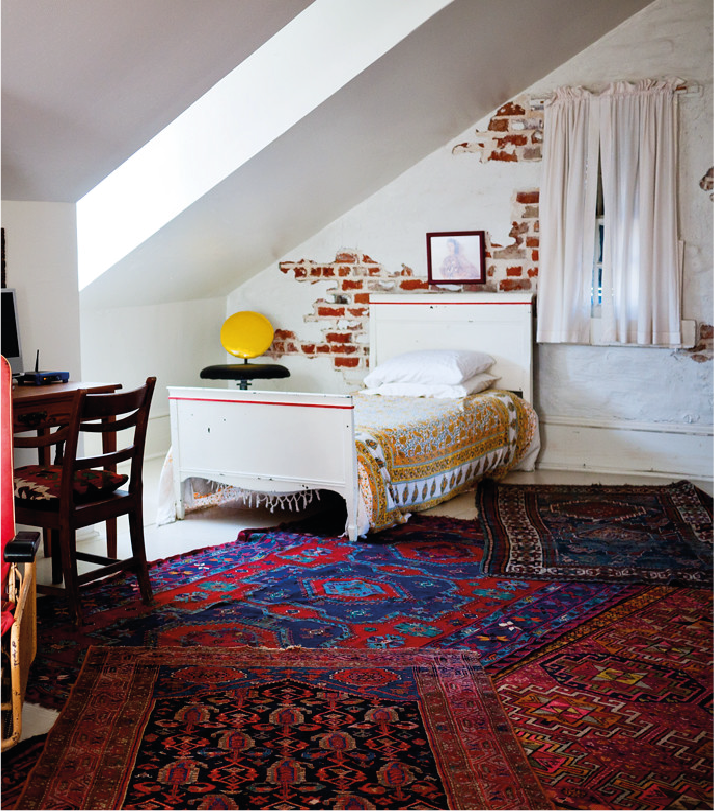 Tips While Picking the Right Rug Size
Picking out the right rug size is as crucial as the utilities you would have incorporated in your room. Don't be distracted and lured by the tiger eye pattern or the zigzag pattern that you forget all about how to utilize it in different rooms in the best way. A basic criss-cross pattern with the perfect size can replace the look of even a more complex basketweave rug pattern. Breaking down the characteristics and design of every room in a house, you can make the smart choice for the best rug size and decide on how well it will go with the room layout. While the design will depend on your choice and the room's design, the area rug size generally depends on accurate measurements. Let's look at some of the standard thumb rules to follow: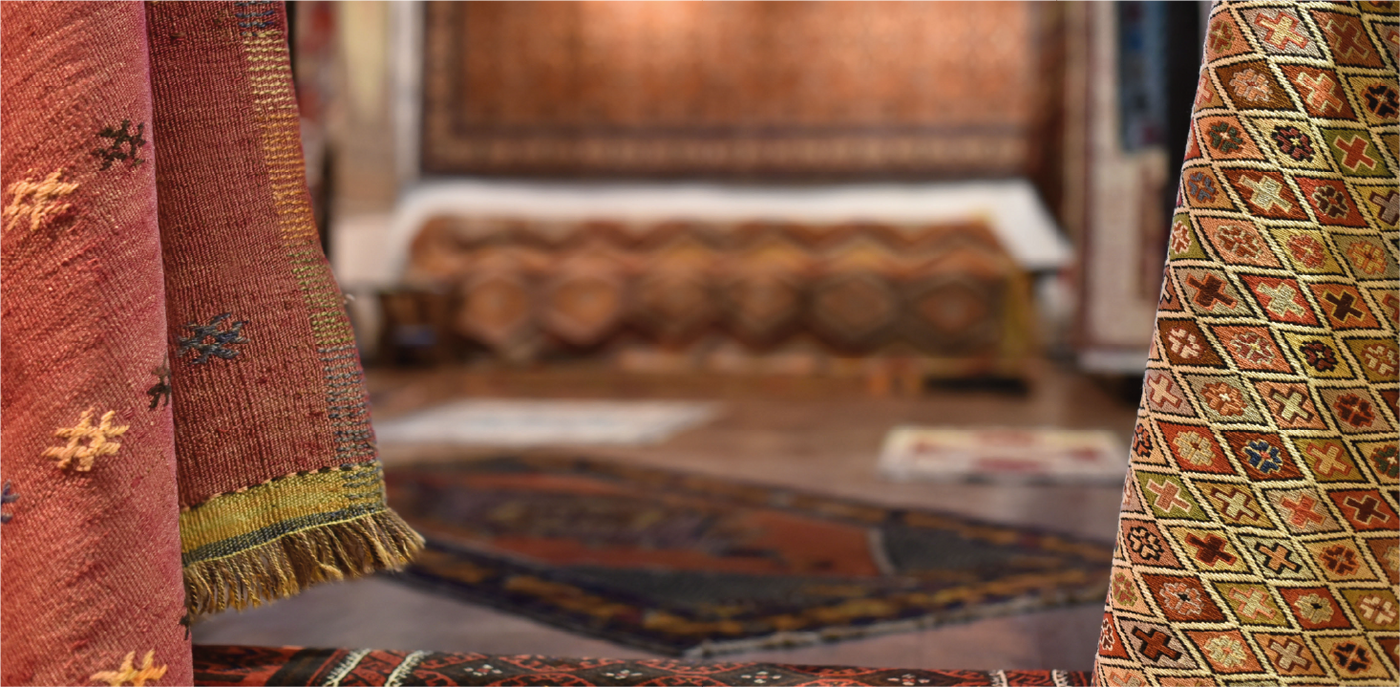 1.  A big rug is always standard
If you're caught between the size of the room and the rug and cannot find the rug with exact measurements as your room layout and measurements, always select the next bigger size. In this way, the rug wouldn't look disoriented and out of place. It will also include all the furniture legs and leave enough border space. The natural fiber will stand out nevertheless. 
2.   Follow the room layout with the right rugs size
It is a common criterion that an oversized rug will justify the alignment of a larger room. Similarly, elongated or runner rugs will suit rooms with the same orientation. Match the proportions of the shape also with the right rug size. Follow your instincts while selecting more oversized rugs with natural fiber.
3.  Concluding on the right rug
Before purchasing a rug, use your imagination to check if the rug will fit the space in size. The rugs size matters both aesthetically and functionally. Visualize or check using a masking tape to do a mock measurement and check if it aligns well with all the endpoints. While measuring your room, make sure to leave at least 18 inches of border space if it's a larger room and an 8" border space if it's a smaller one.
Different Sizes for Various Rooms - Dining room to bathroom
The first step towards selecting the proper size is to see how well it fits the space wall to wall where you intend to put them in. A big rug bigger than wall to wall size and a smaller rug smaller than required can be a headache and ineffective as a utility or interior design item. A larger rug will take up more space, and you will have to fold it on the sides to keep the extra length from being a hindrance. A smaller rug size  will be pushed away and ultimately thrown out if it doesn't serve its purpose. 
Rugs are typically rectangular, varying from small to larger ones. The common size of a small area rug that is rectangular is 2x3 feet, and that of a larger rug is 10 x 14 feet or 12 X 15 feet. The rug size should match the room size measurement, how well it covers the furniture arrangement of each room and gives easy access to the beater bar. A living room will have a sofa, bookshelves, and a coffee table and the style of carpet should not be the first thing that matters while designing a living room. A bedroom will have a bed, nightstand, and closets and a natural fiber rug blend will add extra comfort. The kitchen will have cabinets, an island table, and a sink. Kitchens can have rugs with coarse natural fibers considering the amount of work involved.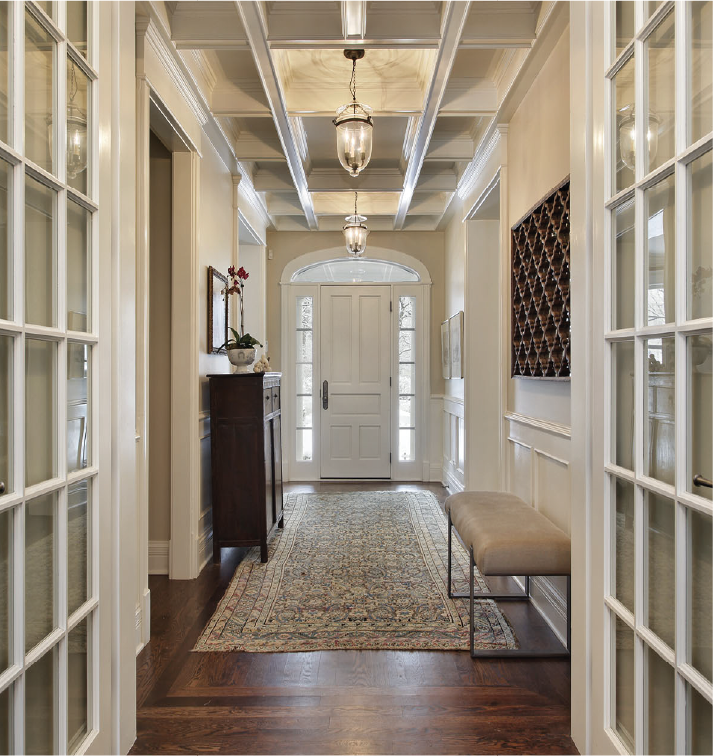 Bathrooms, foyers, and kitchens can be designed with rugs of sizes 2x3 feet, 4x8 feet, and 6x9 feet. These spaces usually have smaller wall to wall distance than other rooms and require smaller rugs. Rugs or hand loomed products used in these spaces require deep washing and cleaning from time to time. Low pile rugs help in regular maintenance with no curling in the edges of carpet. Rugs size of around 9x12 feet and above are helpful for bedrooms, living rooms, and large halls. An 8x10 carpet is often utilized in the dining room as it is an ideal choice for a six-seater dining table set. 
A square yard can utilize square rugs that have varying standard sizes with precise measurements of 4x4 up to 10x10 feet . Runner rugs are manufactured with a common size of  two to three feet in width and lengths of 6 feet, 8 feet, and 10 feet. 
Rugs Size Chart 
Rugs size guide can make things easier for you to refer to and hit the "purchase" button for shipping & delivery immediately as soon as you choose the right rug size. Below is a size chart with common sizes to follow  while choosing rectangular rugs: 
RUG SIZE                                   SUITABLE RUG SIZE 
5 x 7 feet                                     3 x 5 feet
7 x 10 feet                                   5 x 8 feet
10 x 12 feet                                 8 x 10 feet
11 x 14 feet                                 9 x 12 feet
14 x 17 feet                                 12 x 15 feet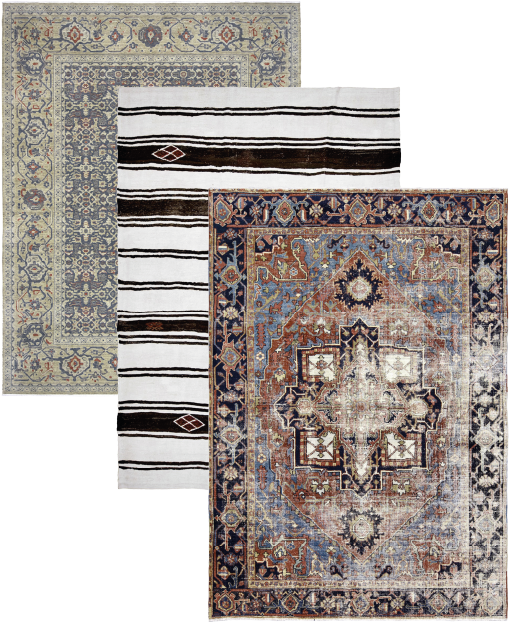 Living Room
The living room is the first impression you can create for visitors and the first welcome you will give yourself when you get home. First, note the existing living room furniture for choosing a living room rug and draw out different options for various layouts with different combinations. Whether your living area is lavish or minimalistic, a room size rug will be suitable if you want to cover the entire space.Rugs of similar patterns, shades and hand loomed products will be ideal for minimalistic or contemporary spaces.
Calculate the size of floor space from the wall to wall and wall to the seating area or living room furniture and prepare the layout, so there is enough space to leave the border space of the rug. The rug size helps divide the seating area and any other room distinction. Check whether the beater bar of the vacuum cleaner will reach all areas of the rug for cleaning it well if they are placed under the living room furniture.
9' x 12' Rugs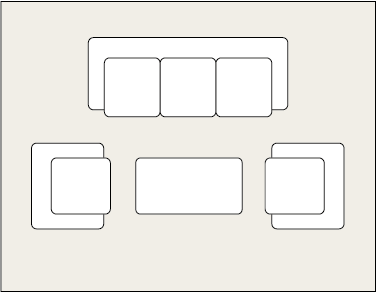 A 9'X12' rug will be suitable for a 12'X18' living room or a little larger one. This rug is large enough to accommodate more than one piece of furniture, all in one go. A living area may consist of a sofa, bookshelf, coffee table, TV stand, etc. and a textured loop pile rug can hold these heavy living room furniture.
8' x 10' Rugs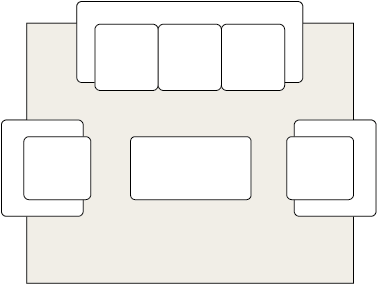 An 8'X10' rug is suitable for an 11'X13' room or slightly more extensive area. The best layout leaves an 18"- 24" border around even a large piece of living room furniture.
6' x 9' Rugs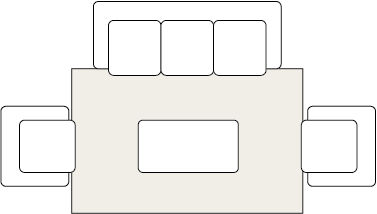 A 6'X9' rug is best for a room size of around 11'X13' or for a small living room. It ideally leaves a 2' of bordering on either side of the rug. A small rug is an economical option while adding style and improving the aesthetics of the living room at the same time. If you're trying to design a smaller living room, a small rug will fit perfectly in the center of the seating arrangement.
5' x 7' Rugs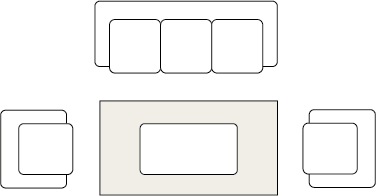 For a small living room, a 5'X7'rug will be suitable to be laid out underneath a coffee table or for two individual accent chairs for a mitered corner or for space for guests fitting entirely on the rug.
3' X 5' Rugs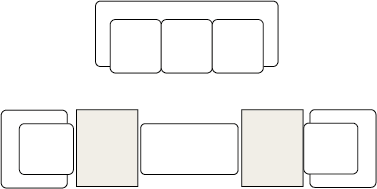 A 9'X12' rug will be suitable for a 12'X18' living room or a little larger one. This rug is large enough to accommodate more than one piece of furniture, all in one go. A living area may consist of a sofa, bookshelf, coffee table, TV stand, etc. and a textured loop pile rug can hold these heavy living room furniture.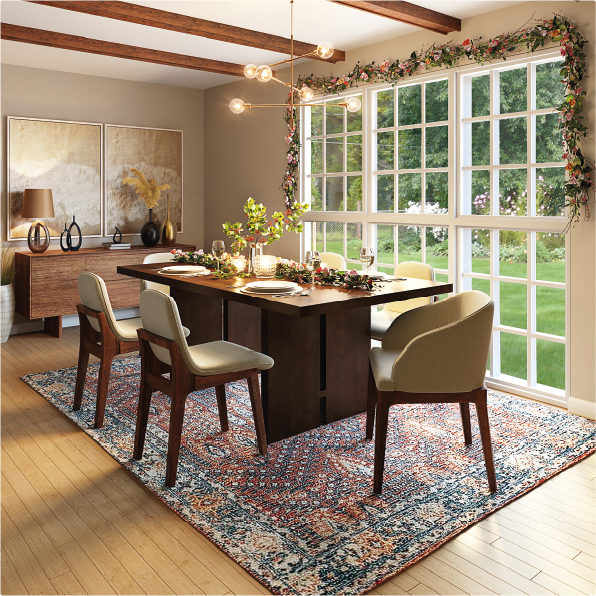 Dining Room
A dining room is typically a place where a group of people may spend quality time together. A rug that is directly placed underneath the table should customarily be placed in the center of the room. The table should be entirely on the rug or inside the edges of the carpet, while there is enough space to pull the chairs out that will still remain on the rug. For the dining chair legs to also be covered entirely while pulled out, there should be at least a 30 inches of space for borders on all four sides. Let's go through different rug sizes suitable for rectangular tables with the number of chairs and members it can accommodate:
- Small dining table with four chairs 
- Medium dining table with six chairs 
- Dining table with eight chairs 
- Large dining table ( more than eight chairs) 
- Small dining table with four chairs
A small dining table fits four members, and a rug that is 8' round will be suitable for a round dining table. Even if it is for a square or rectangular dining table with four chairs, a standard 8'X10' rug or 6'X9' rug can be placed so that the dining table is centered in the middle of the rug.
Large Table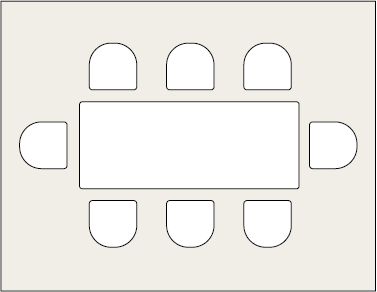 A 9'X12' rug will be suitable for a 12'X18' living room or a little larger one. This rug is large enough to accommodate more than one piece of furniture, all in one go. A living area may consist of a sofa, bookshelf, coffee table, TV stand, etc. and a textured loop pile rug can hold these heavy living room furniture.
Medium Table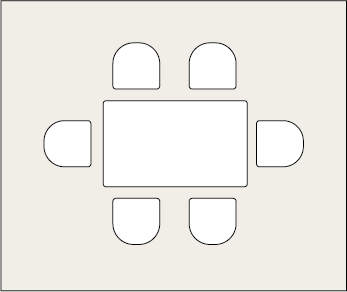 A medium table is the best fit for six members, and an 8'X10' rug would also be suitable for both small and medium dining tables. It leaves enough border space so that the dining chairs can be pulled out easily while remaining on the rug. A larger dining table will include eight members or more chairs and can have 9'X12' pile rugs larger enough to include all the chairs to be on the rug even when pulled out.
Small Table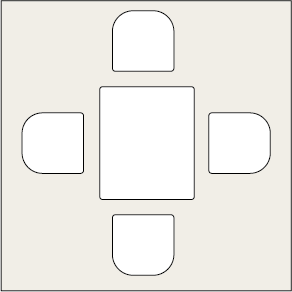 A small dining table fits four members, and a rug that is 8' round will be suitable for a round dining table. Even if it is for a square or rectangular dining table with four chairs, a standard 8'X10' rug or 6'X9' rug can be placed so that the dining table is centered in the middle of the rug.
Bedroom
A perfect rug makes the bedroom feel cozier, cancels out sound from noisy space and maintains a moderate temperature during harsh cold climates. Like every other room, a rug for the bedroom also depends on the furniture arrangement and size of the room. Selecting the right pile rug size depends on the bed and the room size. Also decide if you need a wall carpet to extend to the wall so that excess noise from outside will be canceled out along with maintaining indoor air quality.Bedrooms should also consist of a wool carpet for winters. An 8 X 10 feet wool carpet is perfect for both king- or queen-size beds with night tables. If you're designing a large master bedroom, always consider a pile rug size that will be large enough to include the bed and two nightstands by the sides of the bed. It will leave enough soft surface for one to place the feet while mounting off the bed.
King Size Bed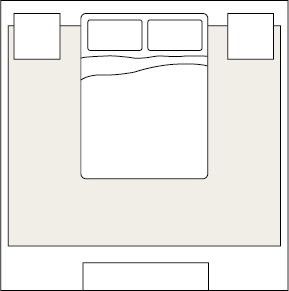 A king-size bed is the largest of almost all bed sizes. A king-size bed will typically be 80" X 76", and a rug size of 9'X12' with considerable carpet weight will be suitable. The bed will be placed on the rug, and space to place the nightstands. A border space area of 2' of the rug will be left around the king-sized bed for one to place their feet on the soft surface of the rug.
Queen Size Bed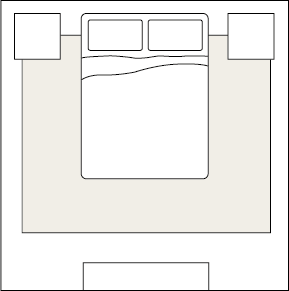 A queen-sized bed is slightly smaller than a king-sized bed having 80" X 60" in size. An 8'X10' rug is an ideal choice to go underneath the queen-sized bed, leaving enough space for nightstands and a border area of 3 feet of the rug on either side of the bed. On the other hand, a 6'X9' rug would leave a border area of 18" on either side.
Full-Sized Bed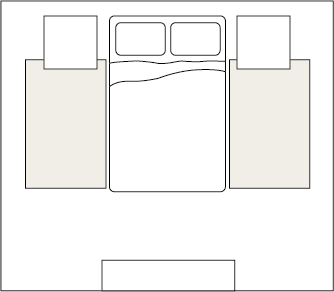 A full-sized bed is 54" X 75" in size, and a 6'X9' rug would fit perfectly. A combination of two 3'X5' rugs is a way to cover either floor side of the bed to create a cushioned area.
Twin Size Bed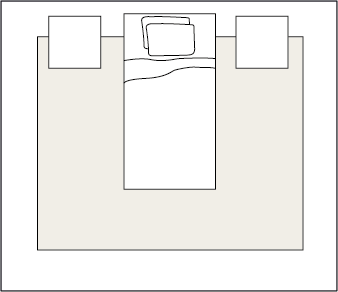 Smaller rugs are cost-effective, and for 29" X 75" sized twin beds can have the common sizes of 8'X10' rugs, 6'X9' rugs, or even 5'X7'. There would be ample space around all sides of the bed. Two 3'X5' rugs can also work best to create the perfect rug area by the sides for one to land their feet softly after a good night's sleep.
Two Twins Sized Beds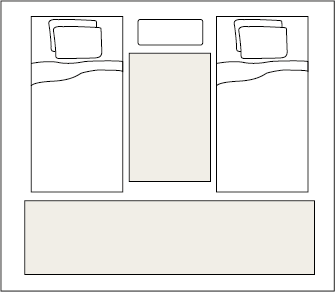 Often two twin-sized beds are used in a single room. For instance, if siblings share the same room or flatmates share an apartment. The best way to design such a space is to lay out a 3'X5' rug between the two twin beds. A 2.5'X7' or 2.5'X10' are common sizes of runner rugs that can also be used in the middle or side of the bed.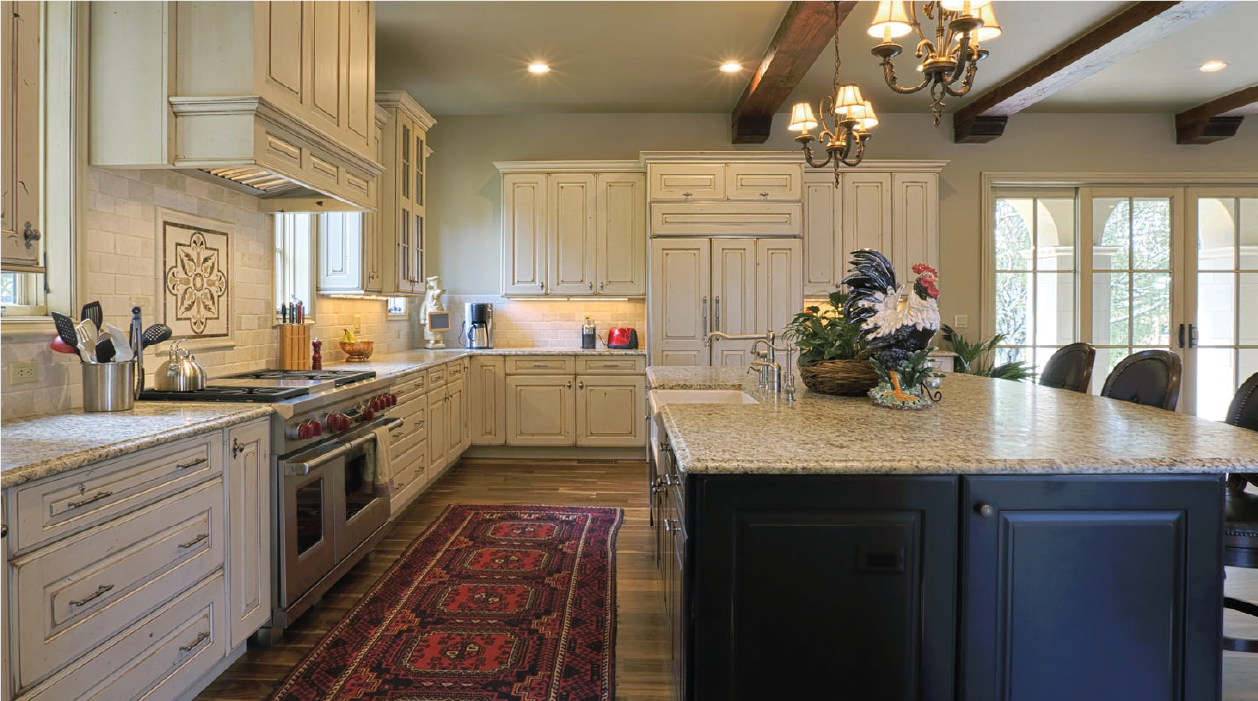 Kitchen
The kitchen is a space that involves a lot of manual work. A pile rug with a built-in no-slip bottom is necessary for one to handle slippery floors or the dampness that goes with cooking. Unlike other rooms, placing a medium-sized pile rug in front of the kitchen sink is necessary, which can be selected without the kitchen size measurements. The kitchen sink is typically centered on table tops with cabinets, so coordinating the pile rug patterns with your flooring and cabinets will be a good idea for one to run the beater bar easily. Let's look into which rug suits the best for the kitchen with different sizes:
Large Kitchen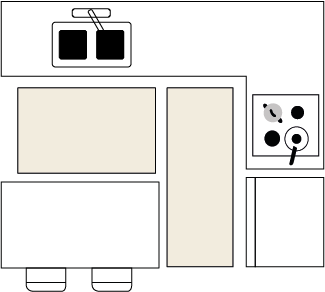 A larger kitchen over 200 square ft. can mostly go with the common sizes of 9'X12', 8'X10' rugs, or 6'X9' rugs. A kitchen island, positioned at the center, like in U-shaped kitchens can divide low pile rugs of common sizes 5'X7', 3'X5', or a runner rug on either side.
Medium Kitchen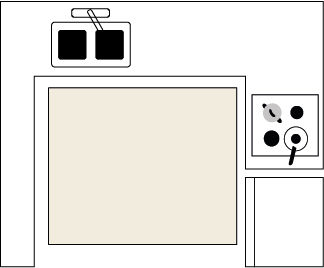 A medium-sized kitchen would require a smaller rug, of size 5'X7' or 3'X5', covering most of the area. A runner rug in the front of the sink can also be used as there will be enough space for both rugs.
Small Kitchen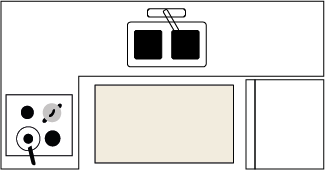 A small kitchen can be cramped up, and adding a rug has to be calculative to make the space comfortable enough to work. Depending on the kitchen layout, you can use a low pile rug with common sizes of 2'X3' rug or a 3'X5' size. You can place them in a way that covers the sink's front area.
Long Kitchen Layout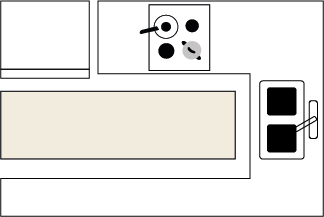 A narrow galley kitchen takes up less space than other kitchen sizes. The narrow floor, like a passageway, can be covered with runner rugs, which may also cover the front area of the sink. Only a runner rug can go along the floors of such narrow galley kitchen carpet designs.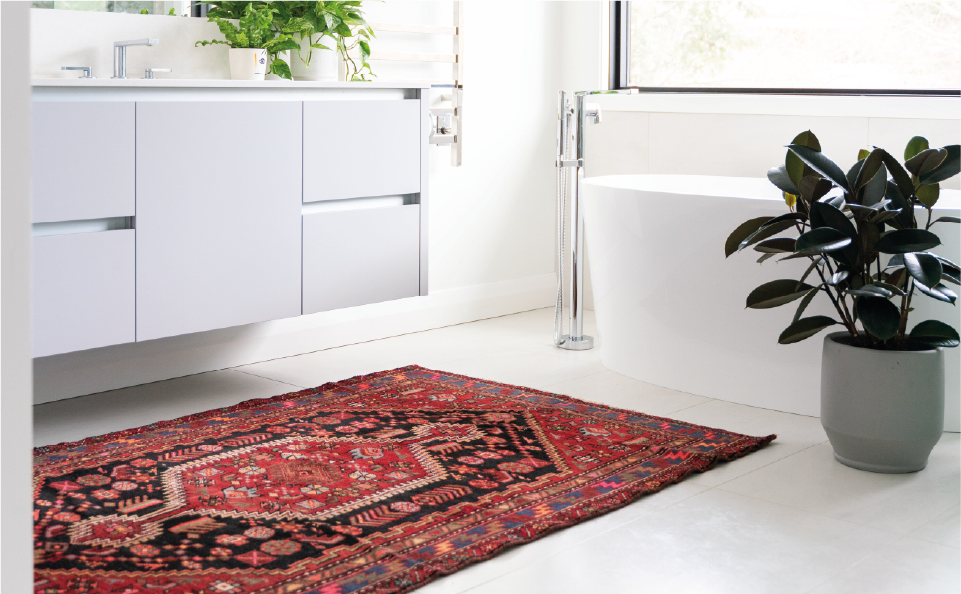 Bathroom
Picking out the best bathroom rug material is also essential for ultimate durability, antibacterial, and water resistance to sustain the damp atmosphere in bathrooms. A 24" X 60" rug is the standard for a bath runner for small and large bathrooms. Usually, runner rugs should be placed in front of the tub or after the wet area to act as an anti-slippery material.
17" x 24"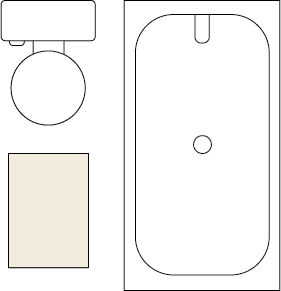 21" x 34"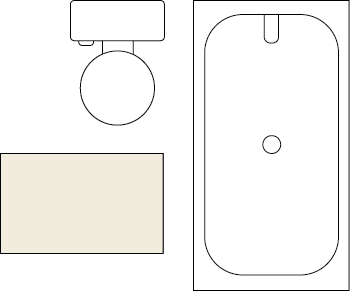 24" x 40"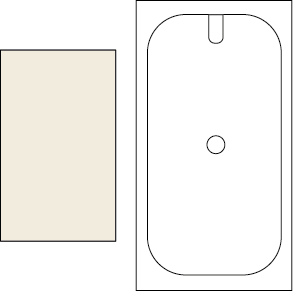 24" x 60"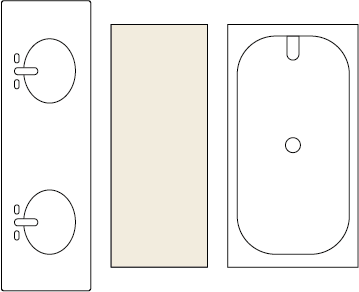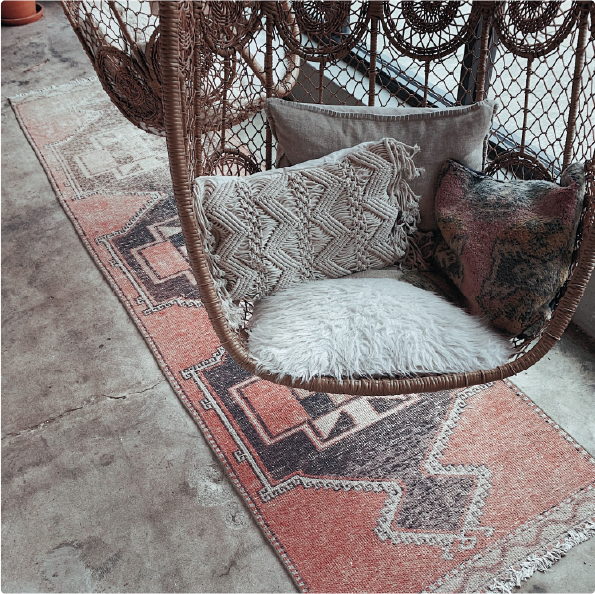 Outdoor Spaces
Outdoor spaces are typically used to spend free time or pursue hobbies like reading, playing games, or painting. A desk, a porch, or a patio might be where people might come and rest for a while after vigorous outdoor activities. Measure the size and check the layout of the flat surface of the outdoor space and the seating furniture. Flat weave carpet installation can significantly influence the mood and set the tone of the outdoor space and the seating area. For the best design, having a border area of 12 to 24 inches of the rug is ideal for the rest of the visible floor space around it.
Medium to Large Spaces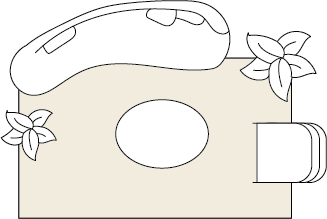 An oversized area rug can form an attractive frame for a piece of furniture and provide a cozy finished corner. For those who have dreamt of and built spacious decks, porches, or patios, it will seem ideal for you to select an oversized area rug. If you want the seating area or a coffee table to stand out, any of the rugs of size 5'X7', 6'X9', 8'X10', or even 9'X12' could work well that will cover all the furniture legs.
Entryway Console and Small Spaces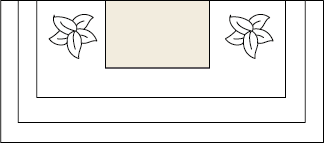 A runner rug made of synthetic fibers is always the economical option to go for in case of small outdoor spaces. Rugs made of synthetic fibers will last longer even if they are exposed to direct sunlight or rain outside. Go for a custom-made rug that will fit nicely below a patio table, two chairs, or any outdoor seating area. You can also opt for a 3'X5' rug or 2'X3' doormat made of synthetic fibers by the entryway for a minimalistic look.
How to take measurements to pick the right-sized rug?
Know your design style first. Sizes and measurements of room and size can be confusing. Having no idea how to place a particular rug on a specific section can lead to the rug losing its purpose in the first place. Decide whether you want to go for a standard rug or room size rug. For a room-size rug, you should take the actual measurements of the entire floor space. Follow these steps to help yourself pick the best area rug that goes along with the ratio of the intended space:
1.  Stick a masking tape to draw a border on the floor along the sides of furniture or the intended area.
2.  Ensure you maintain at least 18 inches of floor space between the intended floor space and the walls or room layout if you do not want to cover the entire floor space with a rug.
3.  Reduce the floor space to 8 inches if it is a smaller room.
4.  Leave an extra margin of 2-inch to avoid picking the wrong rug, as the sizes may have slight variations or differences manufactured by different companies or weavers.
5.  Once the tape is in place, note the end dimensions. Use these dimensions to choose the ideal rug size from the standard sizes for rugs as listed in the chart.
Picking The Right Rug Size 
The right rug size can make or break the room's appearance and be sure of how you want to maintain them to prevent the product from degradation caused by material breakdown or irregularities in yarn color. Loose fibers can be a cause of concern when you have to run the beater bar every now and then for cleaning.
Having accurate rug and floor space measurements is the first and most crucial step toward designing your room space and decorating it with the best rug  with beautiful designs available on the market. Using accurate floor space measurements rather than relying on guesswork to make the smart choice for picking an artisanal product or hand loomed product like a rug is always good. But before you go purchasing, you should have a clear idea of the right rug size, design style, pile height and what the layout is going to be, before you check the textural quality of rugs. Purchase handmade and timeless pieces of antiques made of natural fiber from Kuden Rugs, unlike machine-made carpets. Visit the site to know more about them.